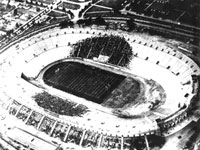 The Los Angeles Memorial Coliseum opened June of 1923; some 5 months later, on October 6th, the first football game was played in the stadium, with the University of Southern California defeating Pomona College 23-7 before a crowd of 12,836. It was a modest beginning for a venue that would later play a very prominent role in college and professional football, and become the greatest stadium in the history of America.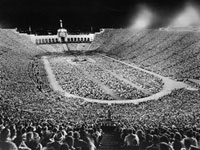 In addition to serving as the home field for the USC Trojans since 1923, countless historic events have taken place inside these venerable walls during nine decades of celebrated history. It is the only facility in the world to play host to two Olympiads (X and XXIII), two Super Bowls (I and VII), one World Series (1959), a Papal Mass and visits by three U.S. Presidents: John F. Kennedy, Richard M. Nixon and Ronald Reagan.
In 1984, the State of California and the United States Government declared the Coliseum a State and Federal Historical Landmark for its contribution to the history of California, as well as to that of the United States as a whole.